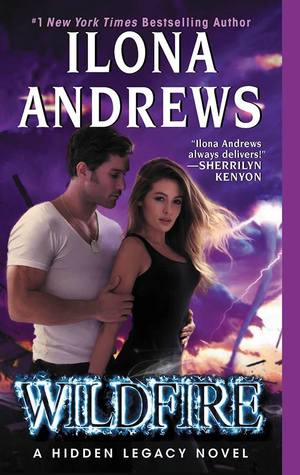 Wildfire (Hidden Legacy #3) by Ilona Andrews
Review Copy: ARC
Length: 384 pages
Published: July 25th 2017 by Avon
Genre: Urban Fantasy
Rating: ★★★★★
Synopisis: Just when Nevada Baylor has finally come to accept the depths of her magical powers, she also realizes she's fallen in love. Connor "Mad" Rogan is in many ways her equal when it comes to magic, but she's completely out of her elements when it comes to her feelings for him. To make matters more complicated, an old flame comes back into Rogan's life…

Rogan knows there's nothing between him and his ex-fiance, Rynda Sherwood. But as Nevada begins to learn more about her past, her power, and her potential future, he knows she will be faced with choices she never dreamed of and the promise of a life spent without him.

As Nevada and Rogan race to discover the whereabouts of Rynda's kidnapped husband and are forced to confront Nevada's grandmother, who may or may not have evil motives, these two people must decide if they can trust in each other or allow everything to go up in smoke.
REVIEW
"I was asleep," he said. "And she woke me up."
So, I've rated every book in this series 5 stars...
I did it, all right? I couldn't help it!
I was so hoping I could disguise my fangirlyness behind some witty objective criticism and drop my rating down to, say, 4.9, but...there's just nothing, you guys. Nothing I can call on to say "this bit wasn't so good," or "this section dragged," or "I didn't like this character." Because it was and it didn't and I do. So I don't care if it makes me sound biased. These books are UF
perfection
and I loved every second of them.
I'm also REALLY REALLY hoping this isn't the end of them! It's says on the Andrews' website:
From Ilona Andrews, #1 New York Times bestselling author, the thrilling conclusion to her Hidden Legacy series, as Nevada and Rogan grapple with a power beyond even their imagination…
Note that ugly word:
conclusion
. And yet, I really think there's so much more that could be done with these characters and this world! So, as with the last five minutes of
The Amazing Spiderman 2,
I'm just choosing to pretend I didn't see it.
I've really enjoyed how each story arc so far has been connected to the one before, even if at first it doesn't seem so. And in
Wildfire
, this was no different. It all keeps coming back to this group of rebellious Primes who seemingly want to tear down the world so they can rebuild it just how they like it. We heard the ice mage, David, in
White Hot
compare it to Rome...
Rome—corrupt, rich, and disorganized, a republic that ruled the world yet couldn't rule itself. Its senators fighting for power in vicious political squabbles; the policies of compromise forgotten in favor of personal gain. Its armies pledging their loyalty to their generals rather than to the republic they were meant to serve.
So I guess that's how they see things now. That Primes have become too power-hungry and everyone is only concerned about their own House, not the world as a whole? Is that it? Because that might almost make sense if they weren't trying to MURDER EVERYBODY!
Someone caught up in the aftermath of one such Prime's villainous acts is none other than Rogan's former intended, Rynda. Rynda's mother was behind some of the events in
White Hot,
and the shame of her actions is being felt by her daughter and her family. When Rynda's husband goes missing, she hires Nevada to find him. Awkward much?
Now, I kinda love it and hate it when and old flame pops up in a book. It's usually equal parts upsetting, frustrating and then, hopefully, supremely satisfying when they're eventually told how things are going to be. I've got to hand it to Nevada, she's clearly been to the Mercedes Thompson school of how to deal with exes. She managed to be professional and keep any jealousy or resentment buried waaaay down deep. I can only applaud. And Rynda was testing at times that's for sure. Her "Oh Rogan, I'm so fragile! Protect me!" act got old
real
fast. Grr!
As well as the mystery, action and romance that were all present and correct just like the first two books, there were also some big developments for the Baylor family unit here in
Wildfire
. And I think this is another big part of why I feel like this series should only just be
beginning
, not ending! I loved how the whole family and all of Rogan's military guys worked together and stood up for one another. I also enjoyed the siblings and cousins contributions. Things have definitely changed a lot since
Burn For Me!
In a nutshell,
Wildfire
was a thrilling, exhilarating page-turner that I absolutely loved, and if this series is over, it was awesome and I have zero regrets. HOWEVER, if it isn't, and the authors want to tie up those last few loose ends they left, I will be the first in line to buy the next instalment!
5 stars ★★★★★ ~ A copy of this book was provided by the publisher in exchange for an honest review.
Author Link
/
Goodreads Link
/
Amazon UK Link