Hello!
Welcome to my round-up of all the books I can't wait to read in July 2017!
I'm so giddy and excited just in general this month about all-things reading, reviewing and blogging. I'm returning from an almost
two-year
hiatus from all three, and it feels
so
good to be back doing what I love!
For anyone remotely interested, I stopped because I had to devote all my time, energy and passion into another important area of my life - my career. I opened a new boutique and had to focus on it and all its social media connections and promotion, etc. Which left no time to even read half the time, let alone anything else. Happily, it's now at a point where it's ticking along nicely enough that I can start enjoying my hobbies again! Yay for a healthy work/life balance!
Oh, and by the way - during my time off, I accidentally let my old domain name, thedemonlibrarian.com, lapse. Oops! I went online to check out how the old, neglected girl was doing, and someone else's blog was there! Freaky. Anyway, I actually saw this as an opportunity to rebrand. The name "The Demon Librarian", at least in my mind, made it sound like all I read is paranormal, and indeed, the old blog had a very paranormal/gothicky look to it. Well, my tastes have broadened over the years so "A Bookish Life" actually suits my wider reading tastes better now, so...
Bright side, anyone?
Anyway! Enough about me. Books!
Here are the books I plan to read in July. They include review books requested that are due for release in July or early August, some older books from the TBR and series I'm woefully behind on because I haven't been reading all that much, and some books I've borrowed via the new
Prime Reading
service (which is bloody marvellous, by the way!).
Arcs:
Enigma
(Schrodinger's Consortium #2)
by
Tonya Kuper
Worst. Road Trip. Ever.
Escaping with Reid Wentworth should have been fun, but how can I enjoy it when I just (accidentally) killed someone, my mom and brother are in danger, and the Consortium is trying to enslave humanity? (Yeah, they aren't fooling around.) So feeling something for Reid Wentworth was not part of the plan. Trying to help unite the Resistance against the Consortium means I can't be distracted by hot boys.
The Resistance secret hideout isn't exactly the rebel base of my dreams. A traitor there wants me dead, but we have no idea who it is. And with both the Resistance and the Consortium trying to control me, the only one I can trust is Reid. If we're going to have any chance of protecting my family, controlling my unstable powers, and surviving the clash between the Oculi factions, I'm going to have to catch this traitor. By using myself as bait.
I'm currently reading this one now, actually. It's a follow-up to Anomaly, which I enjoyed, and it's about teens with special abilities on the run from bad guys!
The Scars Between Us
by
M.K. Schiller
Emma Cooper is determined to fulfill her mother's dying wish to scatter her ashes with Aiden Sheffield in Linx, Texas. Just one problem. Why Texas and who the hell is Aiden Sheffield? The only clue is a faded piece of her mother's stationary. Emma imagines Aiden is a former love of her mother's, but when she meets the beautiful, damaged stranger, she realizes her assumptions couldn't be more wrong. He's hot and young. And Emma is as confused as ever.
Aiden
Sheffield would rather go to hell than
Linx
. Who does Emma think she is disrupting his carefully built life? The last thing the Marine needs is to slice open the sealed wounds of his painful past. Yet, as he gets to know the lovely Emma, a woman who manages to smile even though she's lost everything, he changes his mind. He will not let her go to hell alone.
But neither is prepared for the devastating evil waiting for them at the end of the road. It might just destroy them.
This one I requested because I was intrigued by the mother's bizarre dying request, and because I haven't read an angsty New Adult for ages, and also the guy on the cover is giving me major Travis Maddox vibes!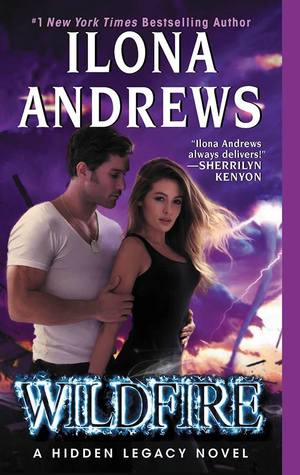 Wildfire
(Hidden Legacy #3)
by
Ilona Andrews
Just when Nevada Baylor has finally come to accept the depths of her magical powers, she also realizes she's fallen in love. Connor "Mad" Rogan is in many ways her equal when it comes to magic, but she's completely out of her elements when it comes to her feelings for him. To make matters more complicated, an old flame comes back into Rogan's life…
Rogan knows there's nothing between him and his ex-fiance, Rynda Sherwood. But as Nevada begins to learn more about her past, her power, and her potential future, he knows she will be faced with choices she never dreamed of and the promise of a life spent without him.
As Nevada and Rogan race to discover the whereabouts of Rynda's kidnapped husband and are forced to confront Nevada's grandmother, who may or may not have evil motives, these two people must decide if they can trust in each other or allow everything to go up in smoke.
I had to request this one despite the fact that it's book 3 in a series and I haven't read the first two because a) it's Ilona Andrews so it's bound to be amazing, and b) a Goodreads friend whose opinion I trust loves the first book in this series, Burn for Me, so much she's read it six times over the three years since its release, including one time reading it twice in one week! See her review here: Sarah's review.
And, thankfully, that's it for books I'm obliged to read. I have a bad habit of over-requesting on Netgalley!


Own Purchases:
I'm a cemetery restorer by trade, but my calling has evolved from that of ghost seer to death walker to detective of lost souls. I solve the riddles of the dead so the dead will leave me alone.
I've come to Seven Gates Cemetery nursing a broken heart, but peace is hard to come by…for the ghosts here and for me. When the body of a young woman is discovered in a caged grave, I know that I've been summoned for a reason. Only I can unmask her killer. I want to trust the detective assigned to the case for he is a ghost seer like me. But how can I put my faith in anyone when supernatural forces are manipulating my every thought? When reality is ever-changing? And when the one person I thought I could trust above all others has turned into a diabolical stranger?

and.....
Shush…lest she awaken…
My name is Amelia Gray, a cemetery restorer who lives with the dead. An anonymous donor has hired me to restore Woodbine Cemetery, a place where the rich and powerful bury their secrets. Forty years ago, a child disappeared without a trace and now her ghost has awakened, demanding that I find out the truth about her death. Only I know that she was murdered. Only I can bring her killer to justice. But the clues that I follow—a haunting melody and an unnamed baby's grave—lead me to a series of disturbing suspects.
For generations, The Devlins have been members of Charleston's elite. John Devlin once turned his back on the traditions and expectations that came with his birthright, but now he has seemingly accepted his rightful place. His family's secrets make him a questionable ally. When my investigation brings me to the gates of his family's palatial home, I have to wonder if he is about to become my mortal enemy.
I treated myself to the next two books in this wonderful southern American gothic ghost series. It's an amazing series that has yet to disappoint.
Burn for Me
(Hidden Legacy #1)
by
Ilona Andrews
#1 New York Times bestselling author Ilona Andrews launches a brand new Hidden Legacy series, in which one woman must place her trust in a seductive, dangerous man who sets off an even more dangerous desire…
Nevada Baylor is faced with the most challenging case of her detective career—a suicide mission to bring in a suspect in a volatile case. Nevada isn't sure she has the chops. Her quarry is a Prime, the highest rank of magic user, who can set anyone and anything on fire.
Then she's kidnapped by Connor "Mad" Rogan—a darkly tempting billionaire with equally devastating powers. Torn between wanting to run or surrender to their overwhelming attraction, Nevada must join forces with Rogan to stay alive.
Rogan's after the same target, so he needs Nevada. But she's getting under his skin, making him care about someone other than himself for a change. And, as Rogan has learned, love can be as perilous as death, especially in the magic world.
White Hot
(Hidden Legacy #2)
by
Ilona Andrews
The Hidden Legacy series by #1 New York Times bestselling author Ilona Andrews continues as Nevada and Rogan navigate a world where magic is the norm…and their relationship burns hot
Nevada Baylor has a unique and secret skill—she knows when people are lying—and she's used that magic (along with plain, hard work) to keep her colorful and close-knit family's detective agency afloat. But her new case pits her against the shadowy forces that almost destroyed the city of Houston once before, bringing Nevada back into contact with Connor "Mad" Rogan.
Rogan is a billionaire Prime—the highest rank of magic user—and as unreadable as ever, despite Nevada's "talent." But there's no hiding the sparks between them. Now that the stakes are even higher, both professionally and personally, and their foes are unimaginably powerful, Rogan and Nevada will find that nothing burns like ice …
As I mentioned, I have book three to review and I can't possibly read a series out of order, so I'll be reading not one, not two, but three Ilona Andrews books this month! I already have this one loaded up on my Kindle and, barring something going terribly wrong and me hating Burn for Me (unlikely) I will be ordering number two straight after.
Kindle Lending/Prime Reading:
This is what I currently have on loan from Prime Reading or via the Kindle Lending Library. These books come at no extra cost on top of my existing Prime subscription. Looking at the size of rest of my list, I'm not sure how many of these I'll actually get round to.
If anyone has tried any of these and they've been bad, do let me know so I can save myself the time!
This wraps up my Looking Forward post for July. If I have any time left at the end of the month, I'll find unread books already loaded on my Kindle (of which there are many) to fill in the time.
Do let me know what you're looking forward to most in July from your own shelves!
Bye for now!