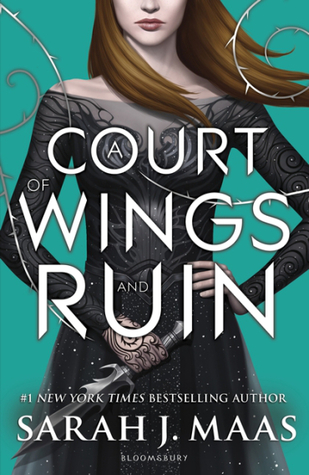 A Court of Wings and Ruin (A Court of Thorns and Roses #3)by Sarah J. MaasReview Copy: Own Purchase,
Length: 699 pages
Published: May 2nd 2017 by Bloomsbury Childrens Books
Genre: YA Fantasy
Rating: ★★★★★
Synopsis: A nightmare, I'd told Tamlin. I was the nightmare.
Feyre has returned to the Spring Court, determined to gather information on Tamlin's maneuverings and the invading king threatening to bring Prythian to its knees. But to do so she must play a deadly game of deceit—and one slip may spell doom not only for Feyre, but for her world as well. As war bears down upon them all, Feyre must decide who to trust amongst the dazzling and lethal High Lords—and hunt for allies in unexpected places.
REVIEW
Feyre Cursebreaker is back in a big way in this third instalment of the stunning
A Court of Thorns and Roses
series!
Just like at the beginning of the last book, Feyre is back at the Spring Court, but that's about the only thing that's the same - Feyre certainly isn't! And it is with surprisingly little conflict that she begins execution of her promised plan of destruction from within Tamlin's court. You remember those heart stopping moments at Hybern's castle at the end of book two? Well Feyre certainly does. The betrayal and rage still burn strong inside her. But as usual, Tamlin looks but doesn't truly
see
when it comes to Feyre, much to his detriment. Only Lucien suspects Feyre's loyalties might still lie firmly in Velaris with her mate...
I initially picked up this series because I was already a mega fan of Maas's other series,
Throne of Glass
. Maas is now an autobuy author for me. I have yet to be disappointed in a single thing she's written, and this was no exception. It was exhilarating. It was intricate. It had surprises for you but also delivered everything readers would be expecting and hoping to see in this third and
sorta
final instalment (more on that below). I absolutely loved it!
The book itself was pretty hefty at just under 700 pages, but the story was split into distinct parts which helped the progression as there was an awful lot to tackle here. The large scale scope of this series' world-building and the looming war make for challenging story telling, but I believe Mass succeeded in conveying the epicness to her readers. This was a truly satisfying conclusion to Feyre's (and Rhys'!) story.
As with probably any book of this length there were occasional slower paced moments, but overall the tempo kept up a nice beat. Maas' characterisation was excellent as always, with certain members transitioning from ally to enemy and back again, meaning readers are never quite sure who to fully trust. The sense of family at the Night Court is one of my favourite aspects and there were developments and revelations for some of the members there. Speaking of...
This is a trilogy, and therefore this current story gets all wrapped up here, but it is not the end! Maas has promised us more to come from the land of Prythia, and I suspect that may be in the form of spin-offs for a couple of characters who still have some loose threads waving in the wind. Something I'd most definitely like to read!

A phenomenal finish. 5 Stars ★★★★★

**Although this is classed as a children's title, it has mature themes and scenes throughout the series and I would personally recommend it for ages 17 and up **