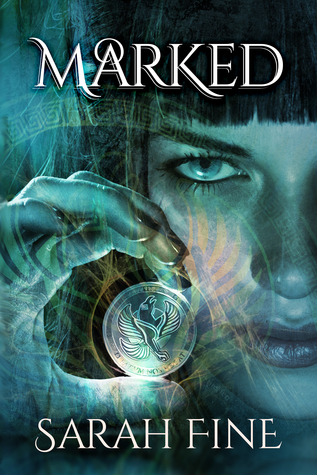 Marked (Servants of Fate #1)
by Sarah Fine
Rating:
★★★★
Review Copy:
ARC
Synopsis:
In a broken landscape carved by environmental collapse, Boston paramedic Cacia Ferry risks life and limb on the front lines of a fragile and dangerous city. What most don't know—including her sexy new partner, Eli Margolis—is that while Cacy works to save lives, she has another job ferrying the dead to the Afterlife. Once humans are "Marked" by Fate, the powerful Ferrys are called to escort the vulnerable souls to either eternal bliss or unending fire and pain.
Unaware of Cacy's other life, Eli finds himself as mesmerized by his fierce and beautiful partner as he is mistrustful of the influential Ferry clan led by the Charon—who happens to be Cacy's father. Cacy, in turn, can no longer deny her intense attraction to the mysterious ex-Ranger with a haunted past. But just as their relationship heats up, an apparent hit takes the Charon before his time. Shaken to the core, Cacy pursues the rogue element who has seized the reins of Fate, only to discover that Eli has a devastating secret of his own. Not knowing whom to trust, what will Cacy have to sacrifice to protect Eli—and to make sure humanity's future is secure?

REVIEW
Cacy, a paramedic and "Ferry" (a person who guides souls to either Heaven or Hell) has a new and irresistible work partner in the handsome form of Eli Margolis, making her shifts on the streets of future Boston suddenly even more exciting and dangerous!
What a great start to a series! Great worldbuilding, great characters, story, and romance. It swept me up and made me want to carry on with the next book (something that doesn't always happen with romances that end conclusively). That sounds like a bunch of win to me!
I really enjoyed Cacy's character. She was cheeky and fun to begin, which made it even sadder once s**t got real for her. And Eli was delicious and very honourable, which I loved. They had great chemistry together and their romance wove around the mystery plot seamlessly.
A terrific book, excellently written.
4 Stars ★★★★ A copy of this book was provided by the publisher in exchange for an honest review.