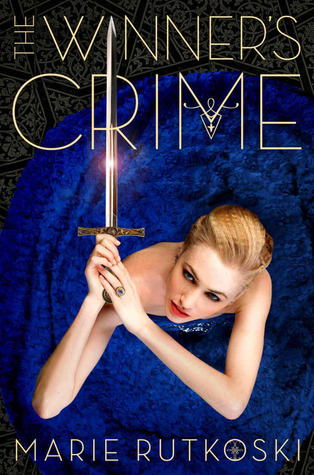 The Winner's Crime (The Winner's Trilogy #2)
by Marie Rutkoski
Rating:
★★★★★
Review Copy:
ARC
Synopsis:
Book two of the dazzling Winner's Trilogy is a fight to the death as Kestrel risks betrayal of country for love.
The engagement of Lady Kestrel to Valoria's crown prince means one celebration after another. But to Kestrel it means living in a cage of her own making. As the wedding approaches, she aches to tell Arin the truth about her engagement... if she could only trust him. Yet can she even trust herself? For—unknown to Arin—Kestrel is becoming a skilled practitioner of deceit: an anonymous spy passing information to Herran, and close to uncovering a shocking secret.
As Arin enlists dangerous allies in the struggle to keep his country's freedom, he can't fight the suspicion that Kestrel knows more than she shows. In the end, it might not be a dagger in the dark that cuts him open, but the truth. And when that happens, Kestrel and Arin learn just how much their crimes will cost them.

REVIEW
Lady Kestrel, daughter to the Valorian Emperor's war general, has promised her own hand in marriage to the prince in exchange for former slave Arin (and the rest of the Heranni people's) life. Still somewhat torn between her Valorian roots, her love for Arin, and the Herrani plight, she walks a dangerous path. Her position could be one of great luxury and ease if only she could ignore the stomach turning practices of her own people. But is she brave enough to choose her own destiny?
*******
I'm not sure there can be any actual winners here in The Winner's Crime. Survivors, perhaps, but no one escapes unscathed (or unscarred!) in this instalment.
I remember at the end of book one, The Winner's Curse, feeling an overwhelming sense of hopelessness on behalf of the central characters. It's such an incredibly complex and treacherous world Rutkoski has created and although Kestrel and Arin traverse it admirably - Kestrel, especially, is incredibly astute with a lightning-quick mind and first class poker face, and Arin, although perhaps a little less comfortable with word games, is also a strong player - it's just such a slippery cesspool, particularly now that we've moved location to the emperor's palace, that even the slickest of operators would be hard pressed to maintain the blank facade needed to succeed.
I particularly enjoyed Kestrel this time around. She's supremely intelligent and resourceful, as evidenced in the way she's sought after for advice by men twice her age and experience and of much higher ranking positions for her outstanding problem solving skills. For the moment, she's playing the part of loyal subject and vapid pea-brain just thrilled to be wedding the prince! Yay! When, of course, we know she's anything but. Arin still holds the key to her heart, much as she might wish he didn't. However, it's a part she has to play convincingly since she's living right under the emperor's nose, and there are eyes everywhere.
All in all, The Winner's Crime is a melting pot of deceit, betrayal and subterfuge with some exquisitely tense moments and a heart-stopping conclusion, making me thirstier than a camel in a snowsuit for the final instalment. I simply cannot wait. It's gong to be explosive, I'm sure!
5 Stars ★★★★★ A copy of this book was provided by the publisher in exchange for an honest review.