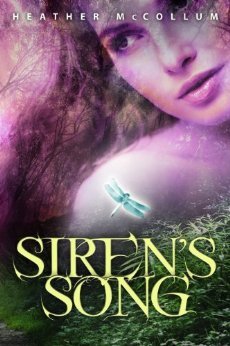 Siren's Song by Heather McCollum
Genre:
YA Urban Fantasy
Series:
?
Publication Date:
March 25th 2014
ISBN:
9781939392824
Page Count:
376
Rating:
★★★★★
Review Copy:
ARC
Reviewed by:
Lynsey
Synopsis:
Jule Welsh can sing. She enthralls people with her bel canto voice. But it takes more than practice to reach her level of exquisite song; it takes siren's blood running through her veins. Jule is starting her senior year at Cougar Creek High when her relatively normal world begins to resemble a roller coaster flying through a carnival scare house. Her mother is diagnosed as insane and committed, a psycho-stalker is snapping pictures of her to put into his homemade Jule-shrine, her voice is suddenly putting people into comatose trances, oh and the gorgeous new guy in town, Luke Whitmore, is interested in her . . . but also wants to kill her.
REVIEW
I really didn't know what to expect with this one. To me, Heather McCollum = Hunky Highlanders, albeit with a dash of paranormal, but this? Contemporary. YA. Fantasy. It was so different, but so very, very good! I absolutely loved it!
Jule Welsh has always had a beautiful bel canto voice that entranced listeners, as did her mother. But then her mother went crazy and stopped singing, and started spouting nonsense about Jule not being safe with the people she's known all her life. And the new guy in school started acting like he wants to rip her throat out every time she makes a sound. Sounds like just another day in the life of your average teenager!
This story might seem like it's your typical YA set-up, what with the brooding new guy and all, but it was soooo good and played out so differently to what I expected. I was pleasantly surprised by each new twist and turn, and really enjoyed the romance side of it too. It was excellent!
I highly encourage any fans of YA Paranormal/Fantasy looking for something new and fun to try this one. You won't be sorry!
5 Stars ★★★★★
A copy of this book was provided by the publisher in exchange for an honest review.