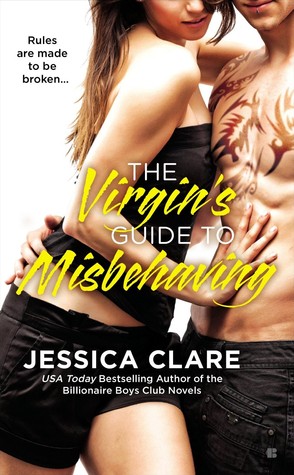 The Virgin's Guide to Misbehaving by Jessica Clare
Genre:
Contemporary Romance
Series:
Bluebonnet #4
Publication Date:
June 3rd 2014
ISBN:
9780425262375
Page Count:
304
Rating:
★★★1/2
Review Copy:
ARC
Reviewed by:
Lynsey
Synopsis:
Playing innocent is easy.
After being the quiet, shy girl her whole life, Elise Markham is ready for a mental makeover. She's done keeping to herself and staying out of trouble—it's time to break out of her shell and maybe meet someone intriguing in the process. So, on a photography trip to Bluebonnet, she has a whole lot more on her mind than snapping photos, especially when Rome walks into the picture.
Playing dirty is fun.
The newest instructor at Wilderness Survival Expeditions has a colorful past, to say the least. Having come from a family of notorious con artists that destroyed his credit and reputation, all before his eighteenth birthday, Rome just wants a decent job and a quiet life in a town where no one knows his name. He's exactly the kind of bad boy that an innocent girl like Elise should stay far away from.
REVIEW
Cute
I don't know if this series is supposed to be classed as New Adult - the characters were certainly adult age (24 and 28, I think?) - but it's written in a very young, New Adulty style, and the tattooed, pierced, misunderstood bad boy simply screams it. As do some of the too-kooky-to-be-real side characters, whom I'm assuming were the lead couples in previous books. In this sense, it was a little cheesy and predictable in places, but overall, I really enjoyed the characters and the storyline in
The Virgin's Guide to Misbehaving.
The biggest point of interest for me has to be the character of Elise. As a child, she had Scoliosis and although she's had corrective spinal surgery, it's left her with misaligned shoulders and hips. She also had a large port wine birth mark on her face until recent years. For both of these reasons, and her childhood spent largely hiding away, she's now a very shy and sheltered adult, with absolutely no social skills or romantic experience, who still sees herself as a "monster". If actual fact, she's now quite beautiful, on the outside and especially in, and just needs someone *cough*Rome*cough* to see her for what she is.
A sweet and sexy read 31/2 Stars ★★★1/2
A copy of this book was provided by the publisher in exchange for an honest review.