Mailbox Monday
. Link up your own Mailbox Monday post there so we can all read, share and follow!
I missed MM last week because I had to spend my entire day off (Monday) fixing all the broken picture links hosted by photobucket on one of my other websites! Did anyone else's blog get blitzed by the Photobucket debacle too? In case you have no idea what I'm talking about:
Buzzfeed Article
Anyway...
My Mailbox:
ARCs:
Going Dark
(The Lost Platoon #1)
by
Monica McCarty

The members of a top secret SEAL Team can't keep their passion under wraps in this thrilling contemporary romantic suspense series from New York Times bestselling author Monica McCarty.

Like Rome's Lost Legion, a SEAL platoon goes on a mission and vanishes without a trace.

After walking into a trap on a covert op in Russia, the men from top secret SEAL Team Nine are presumed dead. Not knowing whom they can trust, and with war hanging in the balance, the survivors must go dark and scatter around the globe.

Marine ecologist Annie Henderson joins her new boyfriend on a trip to the Western Isles of Scotland to protest a hazardous offshore drilling venture. When she realizes that she may be swept up in something far more dangerous than she'd intended, there is only one man she can turn to. . . .

She and the mysterious but sexy dive boat captain haven't exactly gotten off to the best start, but something about his quiet confidence makes her think that he's the kind of man she can depend on. Because he's gruff and guarded, she can tell Dan Warren has secrets. But she could never imagine how high the stakes are for him to keep his cover, even as he risks everything to protect her. . .
Up until now, I've only encountered Monica McCarty as a Scottish Romance author, so I'm keen to see her writing style applied to a new, more contemporary genre in Going Dark.
An Earl for the Archeress
(The Ladies of Scotland #1) by
E. Elizabeth Watson
Emma Cooper is determined to fulfill her mother's dying wish to scatter her ashes with Aiden Sheffield in Linx, Texas. Just one problem. Why Texas and who the hell is Aiden Sheffield? The only clue is a faded piece of her mother's stationary. Emma imagines Aiden is a former love of her mother's, but when she meets the beautiful, damaged stranger, she realizes her assumptions couldn't be more wrong. He's hot and young. And Emma is as confused as ever.
Aiden Sheffield would rather go to hell than Linx. Who does Emma think she is disrupting his carefully built life? The last thing the Marine needs is to slice open the sealed wounds of his painful past. Yet, as he gets to know the lovely Emma, a woman who manages to smile even though she's lost everything, he changes his mind. He will not let her go to hell alone.
But neither is prepared for the devastating evil waiting for them at the end of the road. It might just destroy them.
Tomboys in historicals! GET IN! Don't you just love it? And I espcially love the men who can appreciate such awesome, forward-thinking ladies.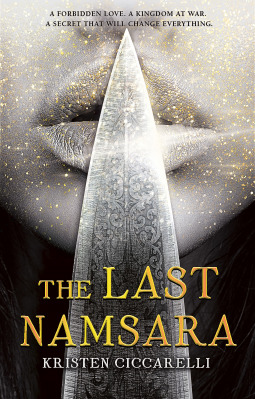 The Last Namsara
(Iskari #1)
by
Kristen Ciccarelli
In the beginning, there was the Namsara: the child of sky and spirit, who carried love and laughter wherever he went. But where there is light, there must be dark—and so there was also the Iskari. The child of blood and moonlight. The destroyer. The death bringer.
These are the legends that Asha, daughter of the king of Firgaard, has grown up hearing in hushed whispers, drawn to the forbidden figures of the past. But it isn't until she becomes the fiercest, most feared dragon slayer in the land that she takes on the role of the next Iskari—a lonely destiny that leaves her feeling more like a weapon than a girl.
Asha conquers each dragon and brings its head to the king, but no kill can free her from the shackles that await at home: her betrothal to the cruel commandant, a man who holds the truth about her nature in his palm. When she's offered the chance to gain her freedom in exchange for the life of the most powerful dragon in Firgaard, she finds that there may be more truth to the ancient stories than she ever could have expected. With the help of a secret friend—a slave boy from her betrothed's household—Asha must shed the layers of her Iskari bondage and open her heart to love, light, and a truth that has been kept from her.
I don't think I need to explain this one much. One, it's fantasy and two, look at that cover!
Dare to Fall
by
Estelle Maskame
Death.
She was afraid of it.
He was used to it.
There's not much that MacKenzie Rivers is afraid of. In the small town of Windsor, Colorado, she is known for her easygoing, strong personality, some would even say she isn't afraid of anything. But MacKenzie knows that's not true. She's afraid of losing those closest to her. Recovering from a family tragedy, Kenzie is fully aware of just how big an impact death can have on those it leaves behind. Seeing its effects on other people is something she just can't quite handle. From now on, Kenzie is her own priority.
There are not many things that Jaden Hunter can make sense of. He doesn't understand why it was his parents who lost their lives last year. He doesn't understand why his friends don't crack jokes around him any more. He doesn't understand why his teachers still insist on letting him skip assignments. He doesn't understand why MacKenzie, the girl he was falling for last year, has suddenly distanced herself from him.
Too afraid to get wrapped up in Jaden's world as he deals with the tragic death of his parents, Kenzie has stayed away from him as best she can, until one night when they unexpectedly come face-to-face for the first time in months. As old feelings resurface and new memories are made, both MacKenzie and Jaden show each other how to appreciate the little things in life, the moments that are taken for granted. But will MacKenzie dare to fall for the one person she's so afraid of growing close to?
I'm a sucker for an emotional read now and then, and these New Adults based around loss can usually deliver that for me in spades. Looking forward to this one.

Mess with Me
(A Mile High Romance #2)
by
Nicole Helm
In Gracely, Colorado, it s all about the climb into the rugged Rocky Mountains, and over the obstacles that life has thrown in your way. With the right partner, the view from the top is grand . . .
Sam Goodall knows how to hide. And in the years since his sister s death, he s done just that, burying himself in his work at the Evans brothers Mile High Adventures as a backpacking guide. Clients don t mind his strong, silent demeanor, and he s happy to leave the rest of the world behind when he s hiking, or holed up in the off-grid cabin he calls home. But he owes his life what there is of it to the Evans boys, and when they ask for a favor, he can t refuse.
Hayley Winthrop is looking for something she s never had a true sense of family, and a purpose. Finding her half brothers was the first step discovering where she belongs in the world is the next. Could it be in the fresh air of small-town Gracely? With hunky Sam agreeing to train her as an outdoors guide, she s torn between exploring her newfound skills and getting closer to him. But chipping away at the walls around Sam could take a lifetime . . .
Sam is stuck in the past, and Hayley is looking toward her future they re a mismatched pair from the start. But the connection between them right now is too good to let go . . .
A grizzly grumpy mountain man with a broken heart? Um, yes please! Just look at that cover...


Own Purchases:
No purchases this week. *Shines halo*
Kindle Lending/Prime Reading:
No Lending books either. I got quite a few ARCs so I know I won't get to anything other than those "must reads".
And that's it for this week. Thanks for stopping by and please give me a follow while you're here. :)