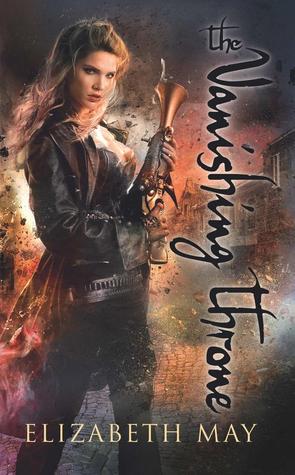 The Vanishing Throne (The Falconer #2)by Elizabeth MayReview Copy: ARC
Length: 362 pages
Published: November 19th 2015 by Gollancz
Genre: YA Fantasy
Rating: ★★★★★
Synopsis: Everything she loved is gone.
Trapped. Aileana Kameron, the Falconer, disappeared through the fae portal she was trying to close forever. Now she wakes in an alien world of mirrors, magic, and deception—a prisoner of the evil fae Lonnrach, who has a desperate and deadly plan for his new captive.
Tortured. Time after agonizing time Lonnrach steals Aileana's memories, searching for knowledge to save his world. Just when she's about to lose all hope, Aileana is rescued by an unexpected ally and returns home, only to confront a terrifying truth. The city of Edinburgh is now an unrecognizable wasteland. And Aileana knows the devastation is all her fault.
Transformed. The few human survivors are living in an underground colony, in an uneasy truce with a remnant of the fae. It is a fragile alliance, but an even greater danger awaits: the human and fae worlds may disappear forever. Only Aileana can save both worlds, but in order to do so she must awaken her latent Falconer powers. And the price of doing so might be her life…
REVIEW
Oh boy. This was so
good!
It was everything I loved about the first book,
The Falconer
, but on turbo steroids. Everything was upped. The level of imagination, already high for this series, was blown clear out of the water in comparison. Such an excellent sequel - I just loved it!
Aileana, having blipped through the portal she was attempting to seal shut in
The Falconer,
has been trapped in a mind-bending, twisty world of mirrors and magic enough to drive anyone insane, whilst slowly having her memories scoured by Lonnrach. During this same time, the human world has been all but obliterated. This was most certainly not the plan, but this is the situation, and Aileana must now deal with the consequences of her failure.
We see tremendous growth from Ailenana in this book and also get some much needed back story on Keiran. I also particularly enjoyed his sister, Aithinne's, contribution to the story. The world-building , which required some extra focus as it's essentially a completely new world Aileana is faced with outside of the portal, was excellent. All in all, this book had more of everything, including the feels!
Book 3 in this series,
The Fallen Kingdom
, has just been released and I can't wait to get to it. God damn you, TBR pile!