Closer Than You Think (Romantic Suspense #16) by Karen Rose
Review Copy: ARC
Length: 544 pages
Published: February 3rd 2015 by Headline
Genre: Romantic Suspense
Rating: ★★★
Synopisis: Psychologist Faith Corcoran is desperate to escape the stalker who's made her life a nightmare for the past year—desperate enough to run to the one place that has been her nightmare far longer. Both boon and bane, her recent inheritance of her grandmother's old house in Cincinnati offers sanctuary in which she can start her life anew, but requires that she face the dark memories that still resonate to this day.
But she has no idea how close to home her fears still are.
Two college girls have gone missing in the area, and FBI Special Agent Deacon Novak is called to work on the case. When his inquiry unexpectedly leads him to Faith, he finds a beautiful and brave woman he can't help but fall for. Soon they'll discover that this seemingly simple investigation is anything but. Reaching back decades into Faith's own past, it will shatter everything she believes to be true and will give terrifying new meaning to flesh and blood.
REVIEW
After fighting him tooth and nail, she'd finally begun to scream. She had the most remarkable threshold for pain. He'd be able to play with her for a long, long time.
Karen Rose brings us
Closer Than You Think
, a creepy, disturbing thriller that will have readers painstakingly piecing together the many layers of this well-crafted plot.
I picked this up because I liked the sound of the blurb - a crazy stalker, a big old house with bad memories, girls going missing - and who doesn't love a good mystery every now and then? For me,
Closer Than You Think
was a good read, but not a
great
read. It had an incredibly strong start - Lots of
action.
Lots of
stuff happening.
Lots of
clues.
I loved the fact that right away we were in the villain's mind; witnessing every sick, twisted thing he did. And that we saw the main character, Faith, from his perspective throughout. There were definitely more than enough breadcrumbs to follow for the mystery lovers out there who really like to guess whodunnit before they're told. And I can't deny Rose is a talented lady when it comes to her plotting - this story had layers like Donkey's onion.
What I wasn't as keen on was the portion of this book from about 40% to 80% because, compared the the beginning, it felt like we'd slowed to a crawl and I don't really understand why this book needed to be 544 pages.
Rose was basically: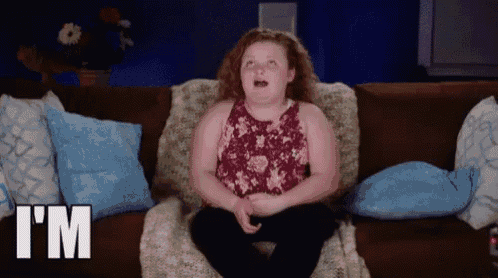 I know you have to keep us in suspense for a bit, but it lost its rhythm, in my opinion.
To pad out the middle section, there's the romance which was just kind of "eh" for me. I didn't hate it, but at the same time it wasn't getting me any closer to the answers I wanted. Both Faith and Deacon were okay characters. The author tried to liven up Faith with the comic books and gaming, but as with a lot of these books, the tension of the situation is what determines the characters overall behaviour and they're just too damn busy running for their lives to be anything other than deadly serious.
One brilliant exception to this that comes to mind is Rachel from the
Brown and de Luca series
. She manages to have phenomenal page presence even while targeted by psychopaths. (Love her!).
So those would be my two major flaws - the unnecessary lengthiness and the slightly flat romance. But the mystery was
very
strong so, ultimately, I landed on a rather wishy washy 3 stars.
Having just sneaky peeked at the next book and seen that it is EVEN LONGER than this one at 721 pages, I'm guessing this is just the way this author rolls, and if it works for you then, like I said, she is a talented mystery writer, no doubt.