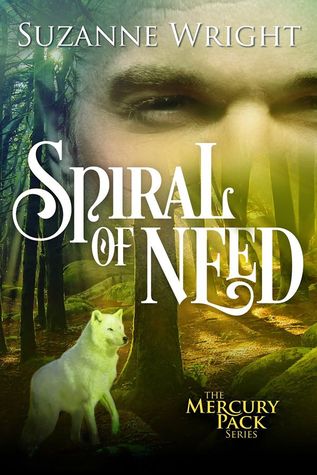 Spiral of Need (The Mercury Pack #1)
by Suzanne Wright
Rating:
★★★
Review Copy:
ARC
Synopsis:
Ally Marshall isn't just a wolf shifter — she's a Seer.
But a girl doesn't exactly need special powers to know that Derren Hudson despises her entire kind. Disdain practically rolls off the Beta of the Mercury Pack . . . disdain mixed with a healthy dose of desire. And no matter how much the ruggedly handsome male appeals to her, this is one call of the wild she's determined to ignore.
After one betrayal too many, Derren doesn't have much use for Seers — except for Ally.
Forced into acting as her protector, he finds himself intensely and passionately drawn to the woman who incites his primal instinct to claim.
And when enemies target the pack, Ally's gift may be just what the Mercury Pack needs.
Can he put his distrust aside, or will he force himself to turn his back on the one woman who makes his inner beast howl?
REVIEW
Dominant wolf and Seer, Ally Marshall, is falsely accused of murder by her own pack in a devastating betrayal of trust. She's soon transferred to a new pack (The Mercury Pack) for her own safety. The only problem? Pretty much every member of this new pack hates Seers with the fiery passion of a thousand suns.
Well... I really wanted to like this one more than I did because I fell instantly, head-over-heels in love with Ally's character right from page one. She was funny, snarky, intelligent, witty, all in the face of being harshly misjudged and mistreated, which nicely stoked my indignation centres on her behalf. She was amazing and for probably about the first three quarters of this book, I was tootling along nicely and heading for a 4-star finish. But, ultimately, my problem with this book was the sex. The copious amounts of it and the
porno
graphic nature of it. Essentially, I wish I could have picked Ally up and transplanted her into an Urban Fantasy instead so I could have enjoyed more of all the good stuff: Ally, the wordbuilding and pack dynamics - both of which were great - and the mystery plot which was tight. And even the romantic parts of the romance. Sadly, it was just too rude for this prude and I suspect all further instalments will follow suit.
A 3-star read overall for me, but perfect for fans of steamier than average PNRs.
3 Stars ★★★
A copy of this book was provided by the publisher in exchange for an honest review.