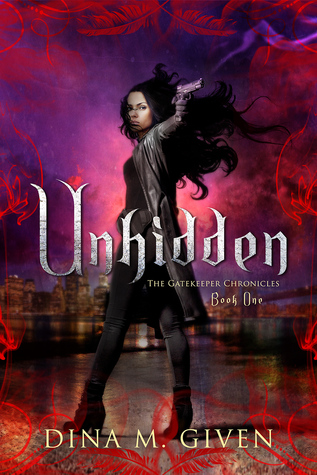 Unhidden (The Gatekeeper #1)
by Dina Given
Rating:
★★★
Review Copy:
ARC
Synopsis:
It's not always easy to differentiate between the good guys and the bad guys, especially when your heroine is a trained killer and she may be falling in love with her evil hunter…
Emma Hayes, a former military Special Forces Operative turned mercenary-for-hire, finds her tightly controlled world turned upside down when she is attacked by horrible monsters.
Emma must use every skill in her arsenal to stay alive as she tries to solve the mystery of why she has been targeted. Her list of enemies keeps growing - from Zane Shayde, an evil Mage, to a secret branch of the US government - and she doesn't know if there is anyone left she can trust.
To complicate matters further, Emma is inexplicably drawn to Zane in a way she doesn't quite understand, even knowing her life is forfeit if captured. Who is he and why does he have this affect on her? How can she fight a being that calls to her, body and soul?
Emma is left haunted by questions, doubts and fears as to why she has been targeted, when they will come for her next, and how she will possibly be able to survive against an enemy she doesn't understand.

REVIEW
Emma Hayes, ex military, ex foster kid, current mercenary for hire is introduced to a world of evil monsters and government conspiracy in this debut from Dina M. Given.
I found main character Emma a bit of a cold fish. One of those tough as nails female UF characters that are so serious and so independent to the point of seeming emotionally stunted that it's actually quite hard to connect to them as a reader. She doesn't have many friends, only has one-night-stands, etc. So although I respected her abundant badassness in the action scenes, I felt a little detached from her personality-wise.
Overall the story and world building were enjoyable and interesting, and parts of it I'd say were a solid 4 stars, but very occasionally parts drew me out of the story. The way the little rag-tag group came together, for example, seemed a little disingenuous and unnatural. Particularly, as I said, as Emma isn't a very friendly person. I didn't believe she'd trust these people or let them tag along after such a short amount of time and neither did feel any connection between Emma and her love interest.
3 Stars ★★★ A copy of this book was provided by the publisher in exchange for an honest review.