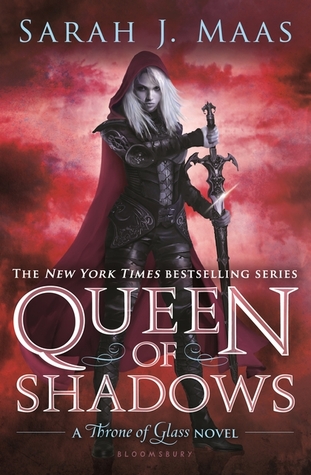 Queen of Shadows (Throne of Glass #4)
by Sarah J. Maas
Rating:
★★★★★
Review Copy:
mine own
Synopsis: The queen has returned.
Everyone Celaena Sardothien loves has been taken from her. But she's at last returned to the empire—for vengeance, to rescue her once-glorious kingdom, and to confront the shadows of her past . . .
She has embraced her identity as Aelin Galathynius, Queen of Terrasen. But before she can reclaim her throne, she must fight.
She will fight for her cousin, a warrior prepared to die for her. She will fight for her friend, a young man trapped in an unspeakable prison. And she will fight for her people, enslaved to a brutal king and awaiting their lost queen's triumphant return.
The fourth volume in the New York Times bestselling series contrinues Celaena's epic journey and builds to a passionate, agonizing crescendo that might just shatter her world.
REVIEW
Positively epic!
I really, really enjoyed this.
Queen of Shadows actually felt like it could have been The End-The End it was so mindblowing and triumphant! Never a dull moment. Plenty of feels, shocks and awws! Absolutely brilliant! Maas has also shown us a new, exciting bigger picture that I can't wait to get to in future books, so I'm more than glad it's not over quite yet.
There were a few things that took a bit of... accepting, though, it has to be said. Mostly with regards to Chaol. I decided to just go with the flow and see what author had in her genius brain, and I can deal. I'm on board. It's all good.
I have to say how much I enjoyed Lysandra's character in particular this time. A great development there. And although initially a bit reluctant, I also found I enjoyed the trips to see what the witches were up to more in this one, too.
All in all, a fantabulous read for any fantasy lover. Best read in series order for maximum good times.