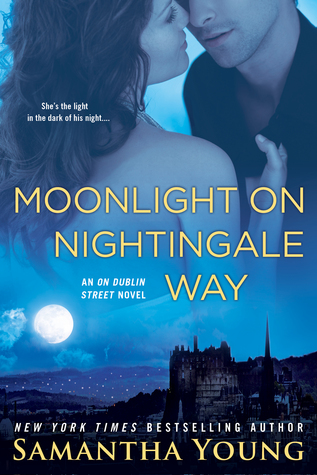 Moonlight on Nightingale Way (On Dublin Street #6) by Samantha Young
Rating:
★★★★
Review Copy:
ARC
Synopsis:
Logan from Echoes of Scotland Street is back with his own smoldering story, as the New York Times bestselling On Dublin Street series returns…
Logan spent two years paying for the mistakes he made. Now, he's ready to start over. He has a great apartment, a good job, and plenty of women to distract him from his past. And one woman who is driving him to distraction…
Grace escaped her manipulative family by moving to a new city. Her new life, made to suit her own needs, is almost perfect. All she needs to do is find her Mr. Right—or at least figure out a way to ignore her irresistible yet annoying womanizer of a neighbor.
Grace is determined to have nothing to do with Logan until a life-changing surprise slowly begins turning the wild heartbreaker into exactly the kind of strong, stable man she's been searching for. Only just when she begins to give into his charms, her own messy past threatens to derail everything they've worked to build…
Last book in the Series
REVIEW
Oh my goodness. Is it really time to say goodbye to this series? I've enjoyed it so much. There have been so many feels, so many tears, so many heartwarming grin fests!
I mean, sure, all the male characters have been clones of one another, and, yeah, the plots have been a little samey. But it's a character formula that works for me and so I'm absolutely not complaining! I'll take a reincarnation of an amazingly hot alpha male over a smorgasbord of different personalities that may not work at all, just in the name of variety. Moreover, I loved starting each new book knowing I was guaranteed a certain experience, and I was never let down
For our last couple we're shacking up with next door neighbours Logan and Grace. Logan is Shannon's (
Echoes of Scotland Street
) big brother and Grace is a brand new character.
Grace is the daughter of a very wealthy media tycoon whose move to Scotland is an attempt to escape her poisonous family and break out on her own. Logan is recently released from a two-year stint in prison after beating his sister's would-be rapist into a coma. It would be safe to say these two do not get along at first - both misjudging the other or assuming they've been judged and acting like a butthead accordingly. However, a shock revelation for Logan with an unsuspecting Grace as witness causes them to have to spend more time together, and gives the chemistry ample time to marinate and mature.
As well as the sensual and satisfying love story of the main characters, were also treated to an extended epilogue from the POV of each of the previous heroines. To say this part was sweet would be an understatement. It was complete cheese on toast and I loved it!
All in all, this was a near perfect ending to the
Dublin Street
series. None of the couples have ever quite hit the heights of Joss and Braden from book one for me, but each story has definitely had something to offer in its own right and have all been a 4 star
+
read.
4 Stars ★★★★
A copy of this book was provided by the publisher in exchange for an honest review.