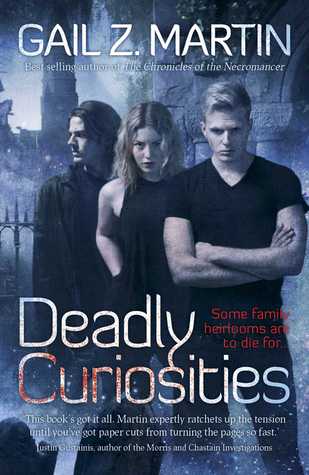 Deadly Curiosities by Gail Z. Martin
Genre:
Urban Fantasy
Series:
Deadly Curiosities #1
Publication Date:
June 24th 2014
ISBN:
9781781082331
Page Count:
456
Rating:
★★★★
Review Copy:
ARC
Reviewed by:
Lynsey
Synopsis:
Cassidy Kincaide owns Trifles & Folly, an antique/curio store and high-end pawn shop in Charleston, South Carolina that is more than what it seems. Dangerous magical and supernatural items sometimes find their way into mortal hands or onto the market, and Cassidy is part of a shadowy Alliance of mortals and mages whose job it is to take those deadly curiosities out of circulation.
Welcome to Trifles & Folly, an antique and curio shop with a dark secret. Proprietor Cassidy Kincaide continues a family tradition begun in 1670—acquiring and neutralizing dangerous supernatural items. It's the perfect job for Cassidy, whose psychic gift lets her touch an object and know its history. Together with her business partner Sorren, a 500 year-old vampire and former jewel thief, Cassidy makes it her business to get infernal objects off the market. When mundane antiques suddenly become magically malicious, it's time for Cassidy and Sorren to get rid of these Deadly Curiosities before the bodies start piling up.
REVIEW
Deadly Curiosities
was a really enjoyable urban fantasy and one that, unbelievably, I even forgive for having absolutely no romance. This is positively unheard of for me as I usually insist on at least a sprinkle of romance in any book that I read, but most especially in my urban fantasies as I love the slow burn of a romance that evolves over several books (think Kate and Curran!). And who knows? Maybe that will be the case with this series too, eventually, but I was struggling to find any hint of where it might come from in this first instalment.
That said, I'm doing it a disservice even dwelling on that aspect for a second since the plot was so strong that I barely even registered its lack, in truth.
The story revolves around Cassidy, a twenty-something antique store owner with psychometric talents. Cassidy was quite a passive heroine if you ask me - particularly as UF ones tend to go. Definitely not one I would describe as badass, which may count as a negative for some readers. Her strength, in my opinion, comes from her intelligence and bravery, despite lacking any obvious or traditional UF heroine-type
mad skillz
or even a particularly outlandish personality. I see her as the kind of quiet, steadfast heroine that grows on you slowly. Only time will tell though, of course.
The story arc for
Deadly Curiosities
picks up when Cassidy's gift starts acting more like a curse. Intensifying and sometimes even rendering her completely incapacitated. The quest to discover why leads her, and her colourful crew of friends, on a hunt for the source, with plenty of action scenes along the way to keep readers skipping along nicely.
In sum, if you love a good paranormal mystery with a great ensemble cast, you should absolutely pick this one up!
4 Stars ★★★★
A copy of this book was provided by the publisher in exchange for an honest review.