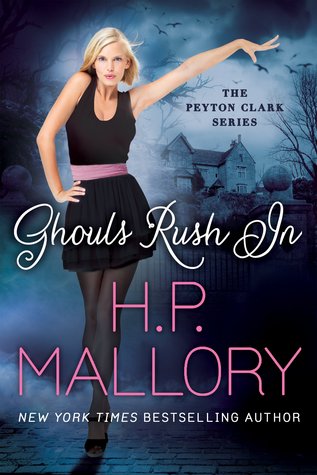 Ghouls Rush In by H. P. Mallory
Genre:
Urban Fantasy
Series:
Peyton Clark #1
Publication Date:
May 20th 2014
ISBN:
9781477818558
Page Count:
269
Rating:
★★★★1/2
Review Copy:
ARC
Reviewed by:
Lynsey
Synopsis:
Do you believe in love after life?
Looking for a fresh start, Peyton Clark becomes the proud owner of a piece of New Orleans history: an Antebellum-era two-story house in the Garden District. It's going to take time and a fat wallet to restore the fixer-upper to its former glory, but after her recent divorce, Peyton could use the distraction.
It's not long before Peyton discovers she's moved into the haunted home of a flirtatious paranormal prankster. She's receiving kisses from unseen lips and caresses from a ghostly hand, and soon she begins to have vivid dreams, bringing her face-to-face with the incomparably handsome ghost of Drake Montague.
When Peyton grows closer to her general contractor, Ryan Kelly—who is as charming as he is alive—the chill in the air could only suggest Drake's jealousy from beyond the grave. But even though she's definitely attracted to and interested in Ryan, Peyton also can't get Drake out of her dreams, or her heart, as she begins to uncover the frightening truth behind his death a century ago…
REVIEW
Ghouls Rush In
I think I've read the majority of H. P. Mallory's books at this point, but have yet to actually finish a series of hers. That may sound worrying, but it's not as bad as it sounds, honest. And she certainly isn't alone in her category of "unfinished". But I think the reason I've always left before the end in the past may be that the story arcs tend to start out really strongly, then get a bit messy later on. For example, I've always found the first book in each series to be the best. I've always, ALWAYS fallen in love with the leading man as she intended me to from page one. And I've always appreciated the heroines, even when they were driving me crazy. But Mallory tends to complicate the hell out of things in latter books. To keep readers interested, naturally, but I think it backfired a little bit where I'm concerned. Don't get me wrong, I'm all for mixing things up a bit - who wants to read about characters whose relationships are 100% smooth sailing? But the things she did to them... Eesh! It almost made you want to just say, "This is too messy and complicated now! Maybe you should move on with someone new and start afresh?" And that's not really the right mentality for a reader to have, is it? I'm meant to be rooting for them to work at it, surely?
Well! What has me
very
excited for
Ghouls Rush In
is that, again, it has started fantastically strongly and I'm more than in love with romantic interest Ryan. But things are moving
slowly
between them
.
And as far as I know, Ryan's a pretty simple, non-supernatural guy, which hopefully means he won't be doing anything other than supporting our heroine and being generally dreamy. In the past, some of the other love interests have had their own agendas, their own desires for power, revenge, whatever, that has detracted from their hunky BF status, and often even led to them betraying loyalties and other heinous acts. So simple, sweet, handyman Ryan is like a breath of fresh air. In fact, the whole worlbuilding is a lot, lot, LOT less complicated than Mallory usually goes for. Just ghosts and a touch of voodoo so far. I'm loving this paired down, back-to-basics approach. It's allowing me to truly appreciate the characters instead.
Let's talk a bit about said characters. Starting with leading lady Peyton. She's a recent divorcee, just escaping from a marriage that sounded more like a dictatorship. Her ex-husband tried to mould her into the perfect, plain Jane, Stepford wife. Which is a far cry from the fun-loving girl she used to be. She's in the process of shaking off those shackles when her aunt, whom she'd never met, dies and bequeaths her an enormous old house. And her new neighbour? Yup, you guessed it, the delicious and aforementioned Ryan. And he really is dreamy, guys! He's quiet, unassuming, thoughtful, sexy. Hmmmm...me like!
However! There is also the small matter of the ghost of Drake Montague who resides in her new house and also has his eyes on Peyton. This is another thing Mallory likes to do: love triangles. Love them or hate them, they're always entertaining. I just hope she doesn't take it too far. A bit of rivalry is good, but, seriously, the dude's dead! How far can it realistically go?
There's a really interesting plot to
Ghouls Rush In
based partly on true crime events involving the Axeman of New Orleans. And it's not wrapped up entirely in this book, so I'm eagerly awaiting the next instalment to find out more. And of course, to see how things progress with Ryan.
So what should you take from this rambling review? Well, what I'm trying to impart is that I'm excited for this new series. I'm hoping it means Mallory has learned not to write herself into a bind, and I'm really looking forward to seeing what comes next.
41/2 Stars ★★★★1/2
A copy of this book was provided by the publisher in exchange for an honest review.