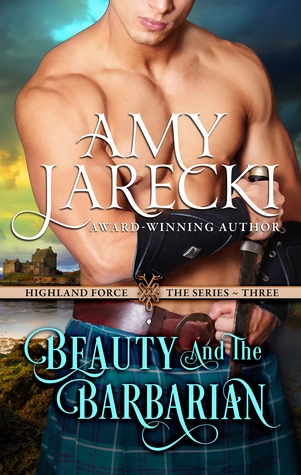 Beauty and the Barbarian by Amy Jarecki
Genre:
Historical Romance
Series:
Highland Force #3
Publication Date:
May 28th 2014
Page Count:
342
Rating:
★★★★
Review Copy:
ARC
Reviewed by:
Lynsey
Synopsis:
Born with the mark of the devil, Merrin has been hidden on the islet of Eilean Fladda for near twenty years. When the body of a Highlander washes ashore, the innocent lass presumes him dead. Brushing the hair from the rugged warrior's face, her fingers connect with warm flesh. Warm.
Ian MacLeod wakes to a woman so radiant, he believes her an angel. But when the lass recoils from him, he fears she knows of his evil deeds. While he heals, Ian is stunned when he exposes her witch's mark, yet he's spellbound by Merrin's allure. He'd do anything to erase his haunting past and earn her love.
But there's a henchman after Ian's head, and when that man learns the Highlander is still alive, the couple is forced to flee Merrin's sheltered world. Fighting for survival, destiny demands they each face their demons, but doing so may forever ruin them both.
REVIEW
On an Island
Another great read from Jarecki. Maybe not my favourite couple in the series, but absolutely a fun read, just like the others!
I think the most interesting aspect of
Beauty and the Barbarian
for me was the character of Merrin. To have lived in such seclusion - she had literally only ever seen two other human beings her
entire life
up
to the age of 19! - I mean, it's just inconceivable... And the reason why? She has a port wine stain birth mark, or, if you're a superstitious Highland clan member, the
mark of the devil,
on her neck! Woooo! Shcarwy.
I shouldn't make light of it, because in this time period, it was certainly no laughing matter. Merrin had to be hidden away in a tiny cottage for her own safety, because at birth people wanted to burn her at the stake. Still thought of as a witch, people now simply steer clear of the tiny strip of land where she lives, and so it's quite a surprise for Merrin when a big, braw Highlander washes up unconscious on her beach!
Ian was a very sweet character with a lot of his own worries also. More than just the one that led to his unconscious state at the top of the book. It was entertaining to watch it all unfold. And as a romantic interest, he was pretty yummy sounding too! I loved how supportive he was of Merrin, no matter what.
All in all, a great addition to the series - 3.5 Stars! ★★★1/2
A copy of this book was provided by the publisher in exchange for an honest review.