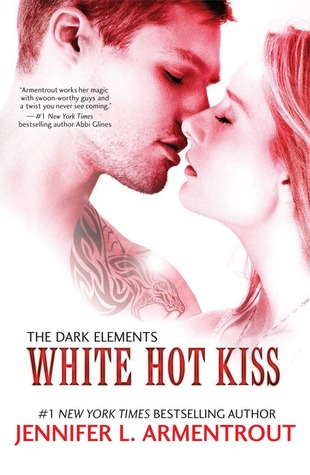 White Hot Kiss by Jennifer L. Armentrout
Genre:
YA Paranormal
Series:
The Dark Elements #1
Publication Date:
February 25th 2014
ISBN:
9780373211104
Page Count:
400
Rating:
★★★★★
Review Copy:
ARC
Reviewed by:
Lynsey
Synopsis:
One kiss could be the last.
Seventeen-year-old Layla just wants to be normal. But with a kiss that kills anything with a soul, she's anything but normal. Half demon, half gargoyle, Layla has abilities no one else possesses.
Raised among the Wardens—a race of gargoyles tasked with hunting demons and keeping humanity safe—Layla tries to fit in, but that means hiding her own dark side from those she loves the most. Especially Zayne, the swoon-worthy, incredibly gorgeous and completely off-limits Warden she's crushed on since forever.
Then she meets Roth—a tattooed, sinfully hot demon who claims to know all her secrets. Layla knows she should stay away, but she's not sure she wants to—especially when that whole no-kissing thing isn't an issue, considering Roth has no soul.
But when Layla discovers she's the reason for the violent demon uprising, trusting Roth could not only ruin her chances with Zayne…it could brand her a traitor to her family. Worse yet, it could become a one-way ticket to the end of the world.

REVIEW
White Hot Kiss
This book was such a surprise! After only being luke warm at best about the last thing I read from this author - outside of the amazeballs Lux series, of course - I was beginning to think that perhaps I only like her writing in that one series. WELL, NOT ANY MORE! I freakin'
loved
this book! I loved the characters, the worldbuilding, the romance, the plot twists and turns. It was so much fun! And the way it ended has me properly giddy for the next book!
Main character Layla was excellent. She was so sassy and self-confident, it would be impossible not to love her. And although I would say she could be a little naive at times, and a little delicate, that's probably only because I'm comparing her to all the super strong supernatural creatures she's constantly surrounded by. She lives with, and was practically raised by, the gargoyles, and has a new shadow by way of sexy demon boy Roth. Compared to these guys, she's about as menacing as a bubble, and they all seem to think it's their job to protect her, too. Layla can understand that from her gargoyle "family", but Roth? What does he stand to gain by keeping her safe?
The way the story played out, and the way your loyalty as a reader was gently steered in various different directions throughout the read, was fantastic. I love that there could have been a big messy love triangle here, had Layla not been so completely blind to one of the possibilities. Only we observers saw the big, neon flashing signs that said, "HE LIKES YOU, TOO!" I love that. Being privy to information the characters are not. And as for Roth, well.... I think Daemon Black has some serious competition on his hands for top Bad Guy With A Heart Of Gold status. He was delicious!
I absolutely recommend this book for fans of Armentrout's other YA series, and just fans of good YA in general. It was fabulous!
5 Stars ★★★★★
A copy of this book was provided by the publisher in exchange for an honest review.